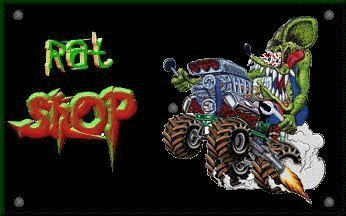 ---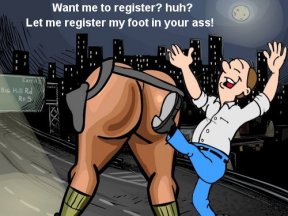 If your as sick of the internet as I am with the registering & entering the image codes. Post this image on your site & put it in your email signature! Your paying enough for your connection & shouldn't have to put up with this bullshit!
---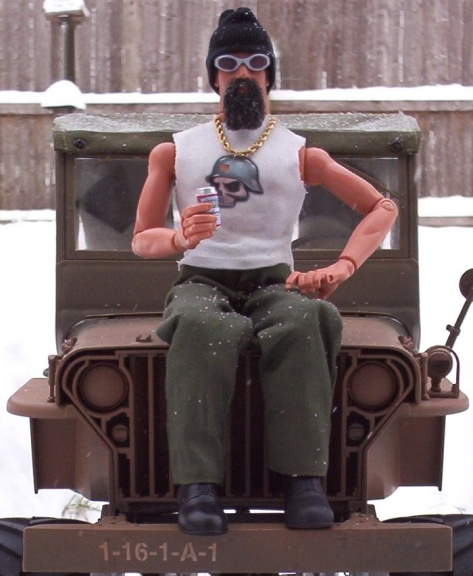 Welcome to the Rat Shop!
What's up brother? I'm Tank the super around here... I'm TheButchers' right hand man. TheButchers' called TheButcher because he's always butching something up & I have to fix it! LOL Shhhhh! I better not let him hear me saying that or I'll be fired! He hates being called that! If you drink grab yourself a beer or grab a shot it's up to you! But don't go drivin' afterwards!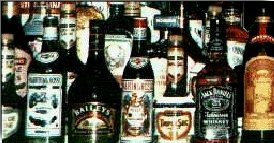 Now that you got yourself something to drink or not take a look around at some of the rides the Butcher & I did up! The newest one we just got done is an old military Willys we found. We chopped off the Hummer body & sold that & the Chevy pickup! We made some changes to the chassis that the Hummer & the Pickup were mounted to then after fabricating some parts to mount the Willys up we checked out the suspenion & found we lost 1 inch in travel but gained 1 inch in ground clearance from the ground to the lower 4 links. So now we're looking into how to get that 1 inch of travel back without loosing the 1 inch ground clearance we gained. Well enough talking I'm going to drink some beer! Go check the rides out & grab some more beer or do some more shots, watch a video! Check back & see if we got our hands on a 66 Nova we're looking at to mount on the Rc10. Later Bro...
---

---
Project: Grabbin' Dirt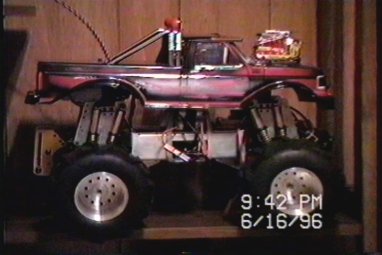 <--- Click Here For More Pics...
Well after transferring some video into my PC & cleaning it up I now can show you all what the truck really looked like! Enjoy! This truck has alot of history to it! I never thought about taking pictures of the truck only video so I took some pictures of the tv screen so you can get a look at the USA-1 I will be mentioning. Way back in the day I was in the market for an RC but knew nothing about them. I just knew I want something big! So I started calling round & found a shop that had a used stock USA-1 with radio for $200. I couldn't wait to go pick my girlfriend up at work & go look at it! We get there & the thing is wild looking it has 4 wheel steering, 57 Chevy Pickup body painted black with Radcial Rat stickers on it with some ugly green rims. The guy ran it outside for me & after that it was mine! I got it back to the apartment I was in at the time & charged the battery up & set a ramp up to the kitchen table & started jumping over the table. Needless to say the chassis broke within the first 10 mins. It wasn't cracked that bad so the next day I wanted to run it again only the truck don't go forward or backward so I call the store up & asked what could be wrong? The guy said you'll have to bring it up. I drive up to his place again & he can't figure out why it won't move. After a whole day of looking at it he finds the mechanical speed control nut came loose & wasn't making contact. To make a long story short I found out through someone else while looking for aluminum to repair my chassis because all the local hobby shops were telling me we don't carry Kyosho parts their kits are not that good, This person tells me about a company named Tower Hobbies & asks if I have an ESC. So I request a catalog & I started ordering. I ordered a Novak 610 ESC,a Sassy Chassis, 2 sets of Thorpe diffs, 2 Trinty 10T motors, 4 - 7 cell battery packs, 8 - oil Kyosho shocks. All the stuff I ordered was after talking to the orginal guy that sold me the truck. I put it all together & started having fun! Within 2 days the body was tore in half. Time to order 2 new 57 Chevy Pickups & more radical Rat stickers (I like them!) Now I get pretty close to the guy that sold me the truck & I'm hearing about pulling. This peaks my interest! So I rip the truck down order 2 - sets of Maxx Traxx steel pausie rears, a used Novak 828 ESC, pull hitch, & a new set of Imex pull tires for only $15. Then I start ripping my battery packs apart to make a 28 cell pack for my truck. I get it all together & I try it out. Bad move! First the truck takes off & I'm chasing it down the street. I got it! Next time I remember to put the radio on 1st! I'm set for another try, I hit the gas & the thing jumps off the ground goes crazy lands & instantly breaks the dog bones when the tires hit the ground, it burns my new imex pull tires up & then smoke is pouring out of the Trinty motors & then BANG, BANG both motors blow up! I didn't know you needed to match the motor turn to the ESC & the ESC to how many cells your using. I'm in shock! I find out why it happened & ordered 2 - Pullmaster motors, a new 828 Novak ESC (because I thought that the used one got damaged & didn't wanna take no chances), & new dog bones. I put it together again try out & it works but the dog bones snap instantly & the batteries are to heavy. I reduced the 28 cells to 14 cells & the dog bones still snap if you hit the gas to quick. So I think why not machine heavy duty dog bones? I can only make them so thick though due to clearance. 14 cells is still too much. I reduce the 14 cells to 12 cells still no good so I reduce the 12 to 10. Finally it works without bending or snapping! Now the steering is just bad so I go & get a 1/4 scale servo. The steering still is terrible! I pull the pausie out of the front & put the Thorpe back in finally it steers ok. Next I bought a pull sled (the good one from Maxx Traxx) I can finally pull! I got the truck to pull 110lbs. Now I'm sick of the truck because it just keeps breaking! So it sits for years collecting dust. I did order aluminum rims, a Hemi motor, & a Bigfoot body through out the years & ran it every now & then in the winter climbing snow banks but that's about it for the USA-1 & where the Clod begins! The history lesson is over! I hope you enjoyed the read!
---
Before RatZilla was born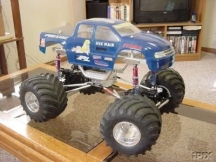 <--- Click Here For More Pics...
I got this Clod for $220 shipped. It came like you see it with full ball bearings. As soon as I got the truck in I began the RatZilla project. And that's where the story begins. Follow me as you see what this truck has evolved into.
---
Project: RatZilla 57 Chevy Pickup version 1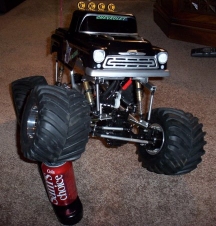 <--- Click Here For More Pics...
I made the ESP cantilever system using aluminum channel I also made aluminum bushing for the pivet point because I didn't want to spend the money on bearings & I didn't have any bushing material however this didn't work to good because the aluminum wore very quick which wasn't a surprise & really was rough. I tried to use my Kyosho shocks I had from my USA-1 which also didn't work to good because they were only 3.5" long & didn't have a ball in the top mount. Next I tried using ESP' shock mounts for the shocks & canti bar which didn't work either because it mounted the shock & bars facing the wrong way. So after all this I only got about 6 - 6.5" of travel. So I moved on to fabricating a steel roll bar for the 57 Chevy Pickup because I couldn't find any store that had one to fit this truck. This came out really good! I used 3/8 galvanized steel. I drilled, tapped & bent it & mounted plastic lights from a roll bar I had layin around. Next I thought a leather bedcover would be really cool so I got some leather & a coat hanger & started fabricating it. Fisrt I got the measurements off the bed of the truck bend the coat hanger to fit & soldiered it. Next I cut the material & started hot gluing it to the coat hanger. I didn't wanna waste my aluminum rims I bought for my USA-1 so I decided to machine some hubs to fit them to the Clod because buying new ones was not an option! It's just a waste of money! And maching new ones is alot of work! Plus there was nothing wrong with these! After that I put my Pullmaster motors in along with my Novak 828 ESC. that I had from my USA-1. I put in my 10 cell battery pack I wired up for the USA-1 & I made some custom Rat Fink/ RatZilla stickers for it. That's about it for version 1.
---
Project: RatZilla Hummer Version 2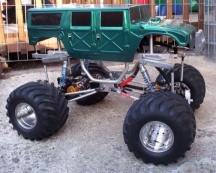 <--- Click Here For More Pics...
Well 1st off I started with the cantilever system again. I ordered some 5/16" x 1/8" bearings enough for a dual ball bearing system. Next I machined stainless sleeves for in between the aluminum channel then machined some stainless sleeves for in between the small inner part of the bearing so the bearings don't bind when you tighten them. Next I bought 4 - 4" long Integy oil shocks. They have a great feature other shocks don't. That feature is on the top of the shock. Instead of the solid hole for mounting the shock Integy put a ball in like the bottom has which allows the shock to move on the top & bottom. I also made new bottom mounting brackets because ESP didn't allow the shock & canti bar to move side to side very good. So instead of mounting the shock & bar through the side mine mount it from back to front which allows for great movement. The shock system is very smooth & I get 10" of travel from the ground to the bottom of the outter tire now.
Next I wanted a push bar but didn't like the one avalible for the Clod it just looks like shit! So I ordered some 1/4 aluminum square stock along with some 3/8 aluminum round stock. Then I bend it into shape, drilled & tapped some holes, & measured it up to the chassis, gave it a polishing & that was it! A good looking push bar with adjustable holes to fit with the Hummer or the 57 Chevy pickup. Only bad thing was I never took any pictures of the 57 Chevy pickup with it on because I moved on to version 3. Too excited & impatient I guess:)
Next on the list was some adjustable motor mounts I machined so I could add some Bolink 8T pinions. I also locked the rear diff. I decided to add 2 more cells to make the battery pack 12 cells instead of 10 because 10 just wasn't enough for the Clod. I locked out the rear by machining a plate that mounts to the rear gear case along with a tie rod. I also machined a plate with mounts to mount the front servo to the front gear case. The steering steers beautiful with a high torque sevro & this setup.
I machined some aluminum body mounts for the Hummer you see in the pictures & also the 57 Chevy Pickup. I wanted to add a rear mount for the ant. so it looks as if the ant. is mounted to the rear bumper so I machined one of those. And that ends version 2.
---
Project: RatZilla Willys Version 3
Well here we go again :) How many versions are we gonna have Tank? Ah... Who cares I just like drinking beer & doing these project! LOL speaking of beer you need another Butcher? Not now Tank let's get this going! Geez! Ok you seen it everyones doing something with the Military Willys Jeep some better then others. So here's my twist on it. Now I used a GI Joe Jeep Willys 1/6 scale that was exclusive to Kmart. It's alittle smaller then the 21st Century but only about 1/2" in width & 1" in lenght. It's not as detailed as the 21st Century but the plastic is more forgiving. Toy R Us & Kay Bee had a GI Joe Jeep too but theirs is a very shinny green & doesn't look so hot in my option. Now on to what version 3 has that 1 & 2 didn't. I started by taking the Joe Jeep apart then I milled the nubs off that I didn't need & wasn't going to use (you know the nubs that stick up & the screw goes through to screw the parts together! Their nubs!) Next I machined some aluminum body spacers for between the body & the frame. Then it was time to measure for the holes in the chassis & start drilling them in the body. Now that the body is mounted I started adding detail to the Willys. First I got some nylon shoe laces & made some door straps. Then I took some of the used plastic I removed from the Willys & made buckles for the straps. This was very much a pain in the ass but well worth it! I then painted the steering wheel satin black. I also paint the muffler underneath & gave the floor & the gas tank the look of paint wear. I also painted the shovel & axe to look more realistic. Now the Joe Jeep don't come with a rag top so I had make one of those too. I used some material I had from an old army coat. Then I used some nice soft clear plastic from a comforter bag that held the comforter for the rear window. Had my Fiancee' sew it up & there's my top. I bought some 3/8" brake line tubing & faced it off, cut it to lenght, & ground the angle I needed to soldier the 2 pieces together for the rag top supports. Mounted the supports on & moved on to making a spare tire cover out of the same material I mention before. I machined some aluminum spacers for the back seat so I could use the back seat to hold the battery down & the I started mounting the electronics. I used a part of the ant. mount from version 2 to mount the ant & added some heat shrink tubing to cover the wire. I then started with the suspenion again because I just didn't like how the upper & lower 4 links were. I machined the center posts for the upper 4 links which were quite a pain when I got to the stopper to stop the post from spinning. I made these stoppers like two horse shoes butted up to one another. What a pain! Then I took the lift kit off because it was making the truck look to high that's when my problems started! I lost 2 inches of travel after I took the lift off & changed to the center post 4 link system. So I tried a different pivet point, I made new 4.125" cantilever levers, cut down the cantilever bar lenght & I got 1 inch of travel back. Then I tried using different postions for the lower 4 links (I thought that would give me the other 1 inch back) WRONG! So I put it back the other way & I'll have to think what else I can do. I did gain 1 inch in ground clearance from the ground to the lower 4 links though. And that's about it for version 3. I did make Tank too in version 3. I thought what the heck I paid $42 for the truck & he came with it so why waste him? Why not make a fictional character & do something noone else has done. But he's not gonna look like the regular military GI Joe or act like one either! OH NO! 1st of the bat I glue some hair to his face, then made a muscle shirt & put my offical logo on him then I made a rope chain for him along with a beanie & got him some shades because Tank said he wants to look tough. Hehe Then he required a can of beer to fit his size so I machined one out of aluminum for him & I even printed him a budweiser label sticker for it. He won't work without it so what can I do? He knows his stuff & he's good & this is the makeover he wanted! The End until the next version! Right Tank? Ah yeah man! Now let's party! Not me Tank I gotta hit the bed I'm tired! Come on! We'll take the Willys! No & your not either! Ah ok... LOL...
---
Project: RatZilla Version 3a
Well I couldn't buy a set of these beadlocks from Hua because he said the company was going out of business & the new company that is going to make their own version isn't out yet. So I made them myself. These were turned, bored, & drilled on the lathe & all the holes were drilled & tapped on the mill. The hex nut hole that holds the brass nut that has the splines in it was also done in the mill. I didn't have a rotary table so I made 2 jigs for the holes. One for the front & one for the back. I then layed the hole spacing I wanted out on each of the jigs & drilled the holes out. This saved me time & also gave me the exacted pattern on each wheel. I have 40 hours into these & would not like to make another set! As for the JPS Aluminum wheels I had on the truck they are now sold & on another Clod. The only other thing I did was spray the springs olive drab green.
---
Project: RatZilla Version 3b
I did the finishing touchs on the beadlock rims by adding 5 allen screws to the inside center hub.
---
Project: RatZilla Version 3c
I removed the U shaped piece of aluminum between the 2 U shaped supports comming down off the frame rails & added 2 - 1/4" aluminum rods instead. This gives me 3/4" more ground clearance from the ground to the bottom of the chassis & creates more ground clearance between the ground & the lower 4 links. I now have 4 3/4" in ground clearance. Also I did some work on the cantilever system by cutting the canti bars down & increased my artic from 9" to 9 3/4".
---
Project: RatZilla Version 3d
Two things I did with version 3d. 1st I cut my tires I just couldn't stand the solid V-threads for looks or handling! It's not what I exactly want but hey it's better then the stock pattern! It took 1-1/2 hours for each tire to be cut & there was no need to sand or dremel them. 2nd thing I did was I cut down the U shaped support pieces of aluminum comming down off the frame rails. This gives me 6" of ground clearance from the ground to the bottom of the U supports & creates more ground clearance between the ground & the lower 4 links. Also I think it looks better then those hugh U's & this also gave me back my 10" of artic & seems to move much smoother.
---
Project: RatZilla Version 3e
Well I took the canti' off & designed a 4 shock suspenion that looked good & functioned better. I now get 11 1/2" of artic it's possible for it to get 12" but the rear tire hits the body & the front tire hits the lower link. It really has a smooth movement & lowered the truck about 1 1/2" which is something I wanted. I think it looks more streamed lined. Take a look at the rest of the pics.
---
Project: RatZilla Version 3f
Alots new in version 3f. First off I wanna thank Frank at Compu-Tech Enterprises for donating 2 cpu fans 1 for my ESC & 1 to have air flow in my battery compartment. Thanks Frank! If any of you are in need of computer parts please visit: http://www.compu-techenterprises.com Frank is a nice guy & he'll take good care of you! Now for the upgrades I started off by adding a fan to my ESC due to extreme heat. The fan over the ESC keeps it as cool as if it weren't running. The fan in the front battery compartment is really for safety just to keep air flowing. At first it was just for looks but with new NiCH batterys I didn't wanna take any chances with overheating being it's pretty closed in. Another mod I did was lock the front diff something I didn't wanna do because you lose your steering & I had many problems with this on my USA-1 when I was into pulling but it is a must for rock krawling! Next I added a Ultra Torque Hi-Tec 5645mg 143oz @ 4.8v 168oz @6v all metal gear ball bearing servo to combat the steering problem when the front diff is locked this thing is awsome! It can turn the front wheels like nothing standing still with the front diff locked. Next I added 2 Power Max NiCH 3000mah Batteries. I then added a new Hi-tec HAS-02MB 2 Ch AM reciever. I next made up a 5 cell 1700mah battery pack for the servo. I wanted something that could be charged in 15 mins & discharged but couldn't find anything like that so I made one out of an old battery pack & added a wire & connector to the battery so it can be plugged in to the reciever but still has the normal battery charger connectors. This worked out very nice. I machined some mounts & a angle plate to mount the 2 front batteries. This was fun trying to squeeze the batteries in such a small space but it worked out great! There's enough room for good air flow. And that about wrap up version 3f. Thanks to Gil at Prop & Wheels for the good deals! If you guys need anything make sure to visit Prop & Wheels in Tamaqua, Pa. UPDATE: Sadly Gil is closing as of Aug. 31, 2006 to retire & help his son with his business! We'll miss you Gil!
---
Project: RatZilla Version 3g
Minor tweaks & a new pair of shoes for RatZilla 3g. I lower the body 5/8" by flipping the lower shock mounts upside down. It's much more stable & looks much better now (atleast in my opinion). I finally added Imex Swamp Dawg tires after a super long wait!
---
Project: RatZilla Version 3h
After doing alot of krawling my rears started to get chewed up so I made up some skid plates.
---
RatZilla 1st Krawling Pics
Got to do alittle Rock Krawling today for the 1st time outside & I'm quite pleased with the truck! Have a look at the pictures!
---
RatZilla 2nd Round Of Krawling Pics
Here's some pics I didn't get a chance to upload from the 1st Krawl!
---
RC Driver Features: "RatZilla" In Showoffs!
RatZilla Krawls into the June issue 2004 in RC Driver! (Last name edited for privacy. If you want to know that bad buy the issue;) Thanks for the GREAT write up Bob Hastings for RC Driver! I'm REALLY glad you like my truck!
---
Project: RatZilla - Gear Reduction Units
Last Nov. I saw Roytoy design some reduction units for his krawler which peaked my interest. They look like what Chrysler used on their old starters. Recently I finally got around to making them & I must say at the 75:1 ratio Ratzilla is now it's VERY impressive! Thanks to Roktoy & Rikpal for the pics & your help! The reduction units use a 20T pinion, 13T pinion, & the motor uses an 8T pinion. All pinions are 32 pitch. If any of you are interested in making them I have some blueprints I made up with all the measurements in inches & decimals. These units require the case to be mod'ed. Also RatZilla is now running 2 Super Roosters.
---
2005 Best Monster Trucks features: "RatZilla" In Truck Stop!

RatZilla stops in at the Truck Stop in 2005 Best Monster Trucks Magazine. This Magazine is an annual Magazine by Car Action.
---
RatZilla 2
It's the same chassis but now sports a new 21st Century body custom painted by me. Also I made a non working winch along with a 5 point harness for Tank. RatZilla 2 also has working headlights.
---
56 Ford
The below pictures are of my Rc10T. In this truck I have a full set of ball bearings, a Novak 410 M1 ESC, 6 cell Trinty battery, 10T triple hand wound Trinty ball bearing motor, & 4 oil shocks along with a 22T pinion. This sucker is fast!
---
55 Chevy
Basically everythings the same with the RC10 except for the machined aluminum wheels. Also I machined some aluminum body mounts along with some new plates to raise the body up so it won't hit the ground. And the last new item I did up is a 55 Chevy body. I painted it Dayton yellow & used some silver pin stripe, & blacked the windows out. Everything thing else stayed the same.
---
Project: Bad Blood
I did up a Stampede for my girlfriend. Basically it's a stock Stampede except for the aluminum tierods & aluminum body mounts I made her & the Imex Swamp Dawgs. I put in the old USA-1 Motor I had layin' around, & a Sanyo 1700 SCR matched 6 cell battery pack. I also gave her my Novak 410-M1 ESC & got her 2 - Proline Totoyo Land Crusier bodies. The body pictured is the beater body. pictures of the show body will come in time! So check back!
---
Project: Bad Blood version b (Show Body)
I just finished up the Totoya Landcrusier show body, & put a new Novak Rooster in.
---
Project: X
This project is the RatZilla body mounted on the above Stampede. I made this for my girl after buying the 21st Century for me. It has a Lathe 55t motor in it along with the same electronics listed above. I also did some weathering on the paint for a more realistic look.
---
Project: Sick Ticket
I finally got my hands on that 66 Nova we were looking for! Not only did I get my hands on that but I got my hands on a Trinty D6 6T double hand wind motor & matched it up to a 14T 48 pitch pinion! I also put a Super Rooster in it. This car tears up the road now!
---
Project: Sick Ticket version b
I just finished narrowing the rear wheels, adding a Torque ring to the motor & putting a new 8T Double drag arm in. I think it looks much more scaled now.
---
RC Driver Features: "55 Gasser & Sick Ticket" In Showoffs!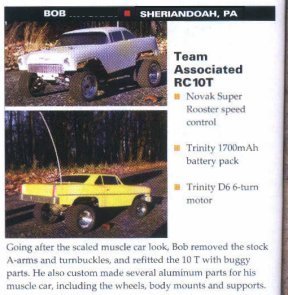 55 Gasser & Sick Ticket smoke their tires into the April issue 2004 in RC Driver! (Last name edited for privacy). If you want to know that bad buy the issue;)
---
Project: Sick Ticket version c
After seeing some other dragsters & the speeds they were reaching (60-80mph) I decide to chop all the fat off of the RC10T to make it lighter, 2nd thing was to get rid of the tranny & fab a direct drive rear up along with a super light front end. After 2 weeks & changing from aluminum axles to stainless axles & sticking the 6T double arm back in I got to run it. The thing is sick it's just super hard to control because of the speed & power. Too much throttle the car just goes into a spin. So I guess I'll be learning to drive all over again :( The only other thing is finding some where long & smooth enough to run because there are no shocks on the rear anymore.
---
I just finished narrowing the rear wheels, adding a Torque ring to the motor & putting a new 8T Double drag arm in. I think it looks much more scaled now.
---
RC Car Action Features: "Sick Ticket" In Readers Rides!

In The June 2005 issue Rc Car Action features Project Street Rod Sick Ticket!
---
Project: Blk Widow
Project Blk Widow is my beater body. It's a 61 Impala made by Parma. I wish the companies would start making wider bodies at least 9" wide! This would give a perfect tubbed look. I added some HPI Super Star wheels & a set of 26mm 4520 HPI tires to the front 2.1 wheels amazingly they stretched on to the 2.1 wheel. I also added some HPI foams to puff the tire back out in the middle & it works very well. I say If the companies don't produce what you want make it yourself or improvise by using something else & don't listen to the employees when they say this won't work! Go to your LHS & ask to try it & don't take no for an answer! Bring a measuring tape, calipers, parts, even your car & match the stuff up yourselve! Send a message to them!
---
Project: 55 Gasser
Just finished up the 55 Gasser.
---
Project: Mental Case
This is project Mental Case I've slowly been working on. It's a Grand Motorsports kit with some custom aluminum centerline wheels I made. 2.0 Tires in the rear & some touring car sized wheels in the front along with some other custom aluminum parts.
---
Project: Convoy
This is project Convoy Rs700L Mack. Although this isn't a radio controled truck it sports super details! It's 1/87th scale truck & trailer made from a Athearn dump truck & a Roco tanker. All the parts were scratch made from plastic, paper clips, phone jack, speaker wire, capasitor wire, nail heads, & stray pins. I have 100 hrs into it. If you would like to see the way the dump truck & trailer looked you can do a google on ROCO 673 & ATHEARN KINGS CONSTRUCTION MACK R DUMP.
---
Project: Nylint
These 1:18 Krawlers are made by Nylint & you can get them at Walmart. I strectched the wheel base to 8-3/4". That's center to center. I also cut the rear quarters & cut 2-1/2 coils off each spring. The trucks has 4-3/4" artic. I used Rit dye to dye almost all of the parts. The gray bed cover comes out almost black. The blue roll cage comes out dark green. The nurf bars & bar on the front comes out like an olive green. These little krawlers are very capable though they do have clearance issues but are still really fun in the house & out! If they get a wheel jammed I recommend helping it or you will break something just like with anything including really krawlers. You can run up to 4 at a time but I did notice some interference when you can close. No their not hobby grade RC's but are great for the price, where you can run them, & with alittle modding are capable of doing some real krawling! Charge time sucks! 8hrs for the 1st 2x's & 4hrs there after.
Update:
I did the "Front Dig" mod by using another 1:18th board & piggy backing it to the orginal board (just the power wires run in paralle) then I used the steering wires (yellow & blue) from the board to power a Futaba S3110 mini servo making sure to use 2 - 10 ohm 1 whatt resistors in series to reduce the voltage to the servo. Also I removed the circuit board from the servo & ran the red & black wires from the servo right to the motor in the servo. And to make the connection from the yellow & blue wires to the connector on the servo I soldiered paper clips (cut to lenght) to the (yellow & blue) wires so they can be plugged & unplugged from the servo. I made a bracket to hold the servo & used a blowdart for the linkage. The blowdart is kinda spring like & acts like a servo saver & doesn't bend & stay that way. The linkage connects via a small hole drilled through the high/low switch (sides on switch sanded to slide easy). A simple screw through the gear case & the high gear keeps the rear locked. To operate the front dig you just select a different channel on the second board & switch back & forward between bands on your radio.
I also did the Hobby grade steering servo using the the same method above for wiring & mounting. This time using a Hi-tec 81MG servo. I flipped the (rear) rear which really helps! And I made a pushbar.
---
Project: Psychotic
Here's my newest project a HPI 68 Camaro. I made some aluminum wheels to fit the HPI 26mm tires & HPI 31mm vintage tires so I can use both rubber & foam tires in the same diamter. I made the chassis' wheelbase adjustable from 11" to 10.250" for use with Touring car & Drag car bodies so the wheels line up under the quarters & fenders lenght wise correctly. I also made 2 different sized sets of rear hubs & front axles so the wheels line up width wise correctly with both body types. The body mounts along with everthing else will always stay the same. I get the best of both worlds with 1 car!
---
Project: RatZilla 2.2
I went for a more scaled look with 2.2 Rock Crusher Tires (Soft Edition) from Rc4wd along with a set of BL88 wheels Special Edition RPP 2.2 Black Beadlock Wheels. I mounted the rear shocks different & lowered the truck as much as the the frame would allow. I also came up with a new way to mount the lower part of the shock along with mounting the upper links directly to the frame rails (this required bending the links to clear the shocks). I cleaned the middle part of the chassis up to make it look more clean. I get no rock side to side now & the truck feels very stable! I still get 9-1/4" of artic considering these tires are 5.5" tall compared to the Imex Swamp Dawgs at 7". I would like the truck to sit about 1" lower but I'm not about to build a news chassis just for that.
---
Project: RatZilla Rat Cage
I went ahead & made a Roll Cage for RatZilla out of 3/8" brake tubing & a Pushbar along with a better looking winch.
---
Project: RatZilla Version 2.2a
I made a custom chassis along with a new suspenion which lowered the truck 1".
---
Project: X Version a
I added a Venom 7 Cell Battery along with a 5 point harness & custom action figure.
---
Score your RTI At: Snake Racing
RatZilla: RTI score:(1769 at 30 degrees) This is based on a 30 degree ramp with the highest wheel at: 11.5" with the wheel base at: 13"(axle center to axle center). This means RatZilla would have driven 23" inches up a 30 degree ramp. Score your truck!
---
Created By:

Copyright 2003